The strength of a virtual office
With success comes responsibility. This is why we believe it is important – as the market leader in virtual offices – to operate sustainably. By facilitating flexible and virtual working, we reduce the occupancy of physical office spaces. This affects two main pillars: energy consumption and CO2 emissions.
What is a virtual office?
A virtual office is an umbrella term for a number of services that together can serve to replace a physical office. This includes a business mailing, visitor and registration address, a phone number, telephone answering and mail handling. It is also possible to rent individual workplaces and meeting rooms.
More information
We are always up to date with recent research on sustainability & innovation. Over the past 13 years, we have made every effort to make our services more sustainable. Companies' need for flexible office solutions is helping to reduce the utilisation of physical office spaces. This affects two main pillars:
1. Energy consumption
Reduction in the use of gas, water and electricity.
2. CO2 emissions
Reducing commuting.
Energy consumption
By using physical spaces only when you actually need them, you avoid unnecessary consumption of heating, air conditioning, lighting, electronic equipment, etc. With a virtual office, you only use these facilities when you need them. This saves significantly on the total consumption of gas, water and electricity.
CO2 emissions
Commuting is greatly reduced when you only go to your business address when strictly necessary. Not only does this directly contribute to combating the greenhouse effect, it also solves the traffic jam problem bit by bit.
Virtual office
Traditional office
Mail processing
Cycle couriers
Car / buses
Commuting
If really needed
Structural
Workspaces
Flexible booking
A fixed number of m2
How do we do it?
We consciously choose to work with partners for whom sustainability is a key driver. This applies to all facets: from setting up and managing a virtual office to processing mail.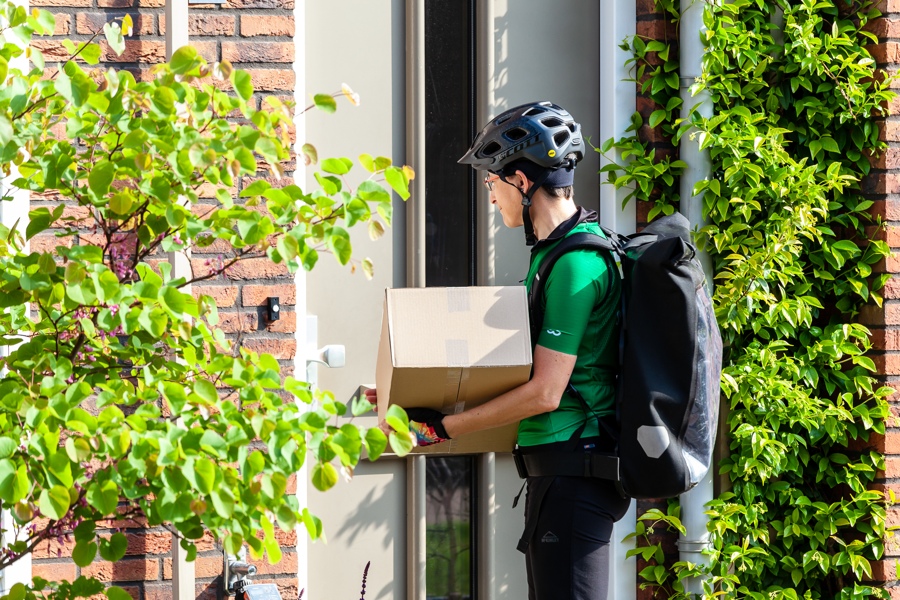 Fewer cars for a cleaner environment
Sustainable mail processing
From our head office, mail is processed sustainably. We do this by working with bicycle couriers. The mission? Fewer cars within built-up areas for a cleaner environment. One bicycle courier often replaces several vans. By transporting shipments in a sustainable way, Groenbezorgen prevents over 50,000 car stops a year.